Investing in the future of High Court Enforcement
June 11, 2018
Category: News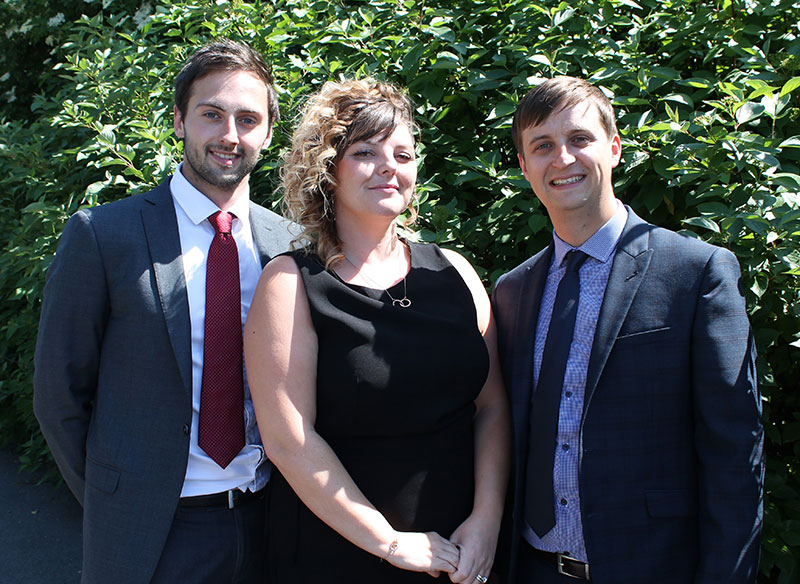 Click on image to enlarge
Our very own Kelly Cookson, 34, Eric Roe, 25 and Joe Hanlon, 30, are on course to become three of the youngest High Court Enforcement Officers (HCEO) in the country. Together they will increase our HCEO tally from two to five.
High Court Enforcement Officers are authorised by the Lord Chancellor to enforce High Court Writs to recover debt and regain control of property on behalf of legal firms, local authorities, landlords, property agents, insolvency practitioners and other instructing parties. They can delegate their powers to Enforcement Agents, also known as Bailiffs, of whom Andrew Wilson & Co has just over 20 working throughout England and Wales.
Kelly, Eric and Joe will join a select group, as currently there are only around 50 serving High Court Enforcement Officers in the industry. The trio are in the final stages of qualifying, having completed the Level 4 Diploma in High Court Enforcement and are now fulfilling the practical element of their HCEO training by going out on the road enforcing.
Sarah Roscoe, Managing Director of Andrew Wilson & Co, comments: "I am bursting with pride. To have three members of our senior management team undertake this training is yet another example of the dedicated, quality individuals we employ and the investment we put into developing our people."
Over her 13 years at Andrew Wilson & Co, Kelly Cookson has worked her way up from Junior Administrator to Collections Manager to Operations Manager and is now a Director of the business. When she qualifies, she will be one of only a handful of female High Court Enforcement Officers in the country.
"Becoming a HCEO means the absolute world to me," says Kelly. "I love working in the enforcement industry and with the team at Andrew Wilson & Co and I am excited at the prospect of making our industry even better. Being under the age of 35 with two young children, with not many female HCEOs in the country, also feels like a massive achievement."
Joe Hanlon, who is also a Director, completed the CICM accredited course one year earlier than his colleagues and will be awarded full HCEO status this summer, having completed the practical element of his training.
Joe says: "I'm thrilled and also very grateful for the recognition and opportunities I've been given to progress my career at Andrew Wilson & Co. It feels great to be part of a company that invests in training and rewards its people."
Eric Roe followed his family into the business as a teenager before undertaking a Master Level Degree in Law at Northumbria University. After graduating he returned to work in Andrew Wilson & Co's legal department. As well as being a trainee HCEO, Eric is also studying towards the Certificate of Proficiency in Insolvency; he says:
"Becoming a HCEO was not originally my determined route, but whilst working at Andrew Wilson & Co and pursuing this qualification, it became the obvious decision to take. I am excited to see what the future holds and how we can continue to lead the industry into its bright future."
Kelly, Eric and Joe are helping to pave the way for the next generation of High Court Enforcement Officers. All three have had the advantage of learning from one of the best in the business, as our company's co-founder, Andrew Wilson, is also the Chairman of the High Court Enforcement Officers Association with more than 39 years of industry experience.
Managing Director, Sarah Roscoe, who celebrates tens years at Andrew Wilson & Co in 2018, concludes: "This is an important milestone for us. Increasing our existing number of High Court Enforcement Officers to five will give us more experience at management level and allow us to grow our business and compete with the larger firms going forward."