By Royal Appointment
July 5, 2018
Category: News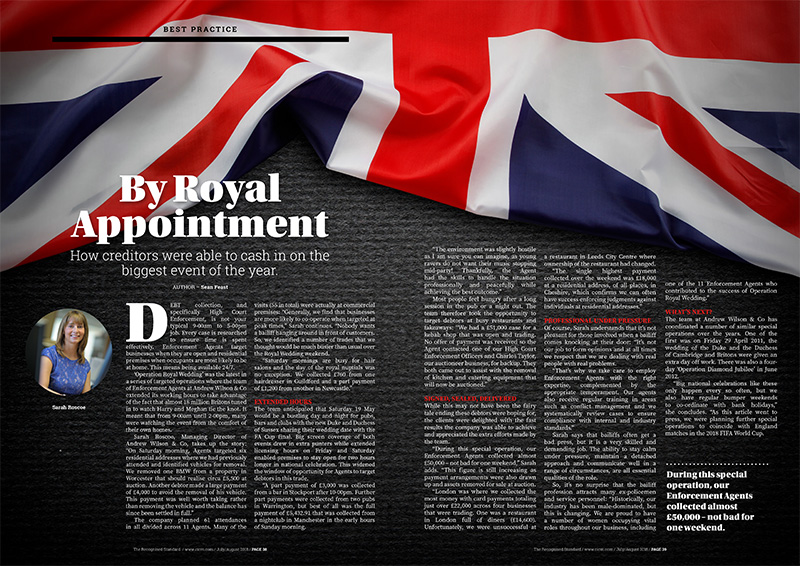 Click on image to enlarge
Andrew Wilson & Co is featured in the July/August edition of Credit Management (CM) Magazine. The article, 'By Royal Appointment,' on pages 38 and 39 highlights a special operation we conducted to coincide with the Royal Wedding of Prince Harry and Meghan Markle on Saturday 19 May 2018.
During 'Operation Royal Wedding', which started at 6.30pm on Friday 18 May and continued throughout the weekend, our Enforcement Agents worked around the clock to collect almost £50,000 of outstanding debt. This figure is still increasing as payment arrangements were also agreed and assets removed for sale at auction.
Many of our 61 planned attendances throughout England and Wales were at commercial addresses. Generally we find that businesses are more likely to cooperate when targeted at peak times, so we identified a number of trades that we thought would be much busier than usual. These were mostly pubs, clubs, bars and restaurants taking advantage of extended licensing hours.
One of our most successful attendances over the Royal Wedding weekend, which also happened to coincide with the 2018 FA Cup Final, was at a busy nightclub in Manchester where we collected a full payment in the early hours of Sunday morning.
You can read the full article here.
More in the pipeline
Our team has coordinated a number of similar special operations over the years. One of our first was back in April 2011 on the day Duke and the Duchess of Cambridge got married. There was also our four-day 'Operation Diamond Jubilee' in June 2012.
Big national celebrations like these only happen every so often, but we also have regular bumper weekends to coordinate with bank holidays.
As our article in CM Magazine went to press, we were planning further special operations to coincide with England matches in the 2018 FIFA World Cup. We look forward to sharing the results of these with you in due course.